JIM FOOTE ~ AVAILABLE PRINTS ~ PAGE 1 of 6
The Official
JIM FOOTE
MEMORIAL GALLERY & WEBSITE
Atlanta ~ Michigan

Any use of the art work represented on this site, is strictly prohibited under copyright law
Copyright 2004 - 2019 ~ Official Jim Foote Memorial Website ~ All Rights Reserved ~ Web Design by Zollars


"NOVEMBER GROUSE"
Image 19.5 x 25 ~ Edition Size 850

Published on 100% Cotton Archival paper. They are pencil signed, numbered and in keeping with the artist's integrity, strictly limited to the edition size shown.
$250.00 Plus S & H
"AUTUMN FLOAT"
Image 19.5 x 26 ~ Edition Size 580
AUTUMN FLOAT ~ 1988
The early fall colors add new splendor to floating a midwest trout stream. The inspiration provided an undeniable subject for Jim's first fishing print.
$325.00. Plus S & H
NOVEMBER GROUSE ~ 1981
Admiritation for the spectacular Ruffed Grouse has inspired Jim to complete a second painting for collectors of his limited edition prints. This painting portrays a late fall regrouping of Ruffed Grouse and catches the mystic quality we hold for this majestic bird.
YELLOW LABRADOR ~ 1988
This is the third in Jim's series of retriever dog prints. The painting depicts the very popular Yellow Labrador, in a marsh setting scanning the sky for a late coming duck
"YELLOW LABRADOR"
Image 19.5 x 26 ~ Edition Size 850
$195.00 Plus S & H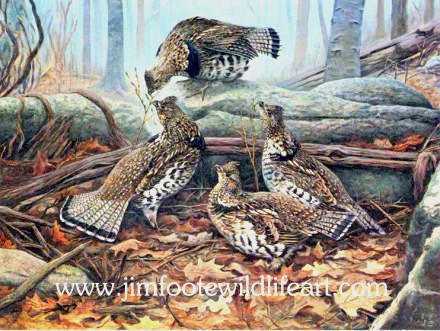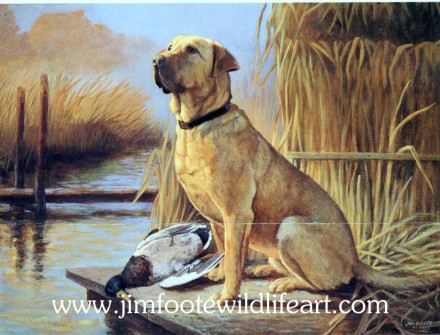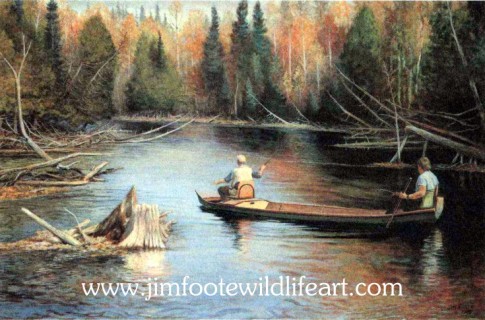 Jim Foote's Limited Edition Prints, have been sold out at the publisher for over 20 years. They are currently available from collectors or secondary market dealers only.
Prints for sale on this site are in "mint condition" unless otherwise noted.

Item P-101
Item P-102
Item P-103
---
---
---
---
---